My Club Chair is a specialist in the creation and renovation of Club chairs and sofas.
Selection of the best skins, use of solid beech wood, making each piece in the state of the art in our workshops, patina, color and waxing of leather made by hand, many customizable options, research of new models …
Our desire is to offer you high-end furniture, aesthetic and durable over time.
A controlled manufacturing process from A to Z, constant attention to detail, great execution precision, and years of expertise allow us to achieve impeccable quality.
Do you need advice on choosing from our range of Club chairs and sofas? Do you want to give new life to a time-worn armchair or sofa? Do not hesitate to consult us.
We support both individuals and professionals (hotels, bars, restaurants, architectural firms, etc.) in their interior design project.
Our range of club chairs and sofas
We perpetuate an artisanal know-how to create the furniture that will harmoniously fit into your interior.
2 or 3 seater club sofas, convertible or not, Club chairs in various styles and sizes, to be installed in an office, library or bedroom, ottoman and footrest, and even club chair… We offer a wide range to satisfy all your desires.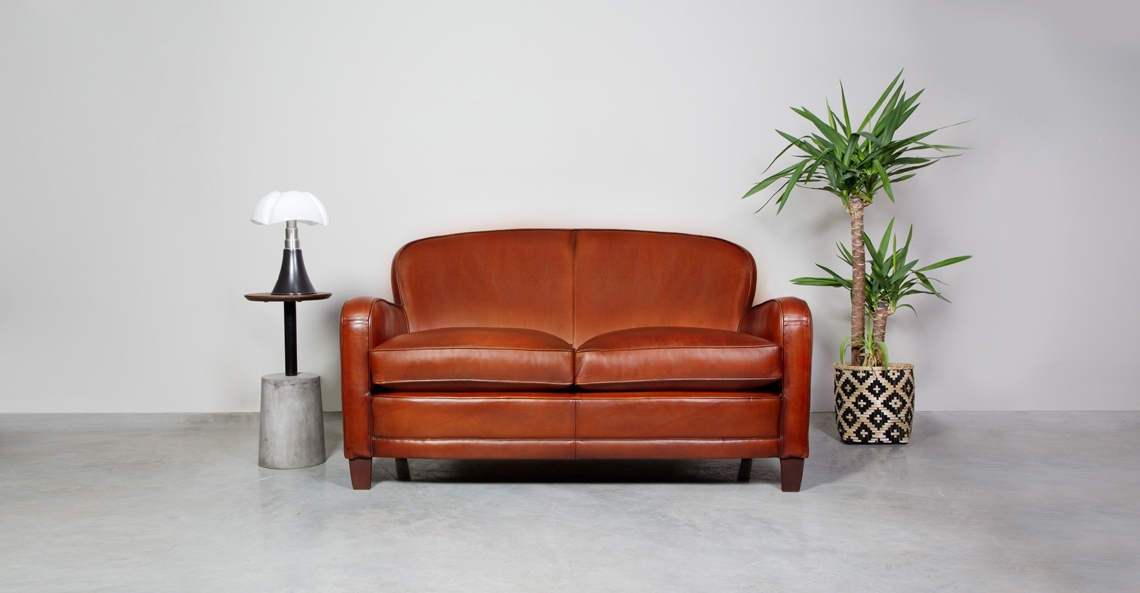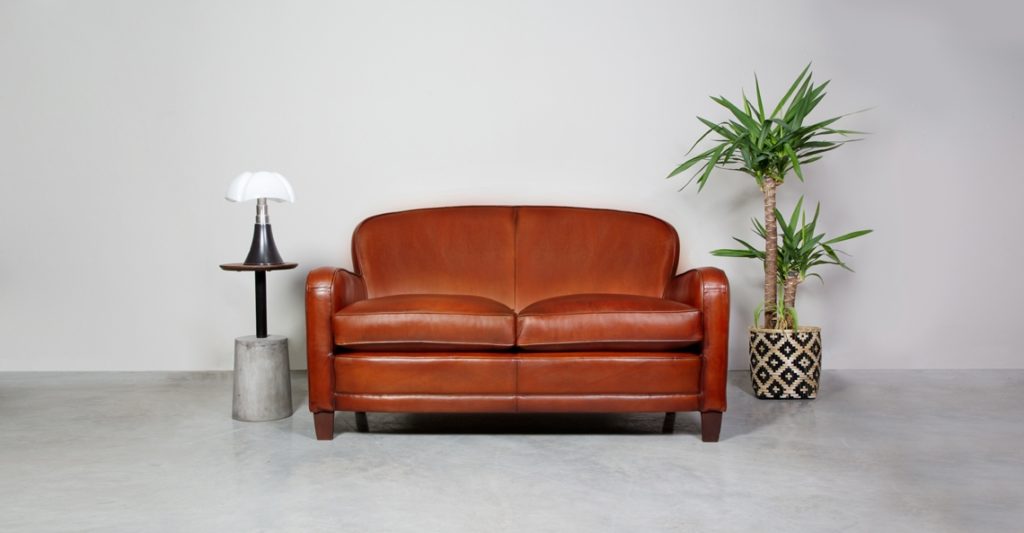 We select and use the highest quality leather: full grain sheep leather, also called sheepskin.
This noble material, of very good visual quality, gives character to each of our models. In addition, it guarantees excellent longevity and exceptional aesthetics.
This leather does not undergo any abrasive action. It therefore retains its original grain as well as natural marks left by time: wrinkles, scars, folds of fattening, stretch marks, scratches …
These characteristics are not defects but the guarantee of an authentic product. They make each of our Club chairs or sofas unique.
In addition, full grain leather magnifies over time to give even more character and charm to your furniture.
Adopting an armchair or a Club sofa is choosing a safe bet. It is a timeless, elegant piece with a chic and natural charm that brings a refined, cozy and vintage touch to your interior.
Creation of custom Club chairs
Our entire range of Club chairs and sofas can be made to measure.
Do you want a particular length, depth, height or shade?
Do not hesitate to tell us your wishes. We will advise you best to make a product whose aesthetic proportions will be preserved.
Depending on the models, our Club chairs and sofas are available in 10 colors, but we can produce any type of shade on request.
If you have a sample of the color you want, you can come to the store to present it to us. Our workshop will then take care of reproducing it.
Otherwise, we will work together to find the color that best suits your needs and that will best integrate with your interior design. Our workshop will make several proposals so that you can compare and make your choice in the best conditions.
We also offer many custom finishes.
The back of each of our models is elegantly decorated with a studded finish made entirely by hand. On request, we can also perform a piped finish.
Depending on the comfort you want (flexible, medium or firm), we make different fillings for the seat cushions:
● synthetic fibers of different densities, flat or curved
● high resilience polyurethane foam
● mixture of feathers and foam
● foam and pocket springs that perfectly match your body shape
Finally, we offer two suspensions to choose from for each of our Club chair and sofa models.
A fixed frame on nosag springs: the cushioning is then done only on the seat cushion (s). Or an articulated frame, on bi-conical springs, which deforms under the weight of the body and offers excellent comfort.
Renovation of Club chairs and sofas
Do not hesitate to contact us or come to the store to test our models.
Have you found a club chair to restore? Is your club chair or sofa worn out over time and you want to give it a second life? The old armchairs in our homes often have sentimental value. Restoring them is often the best option for keeping them.
At My Club Chair, we carry out the repair of any type of "club", whatever its state, on estimate.
We can restore an entire armchair or sofa, or a specific component: seat cushion, frame, suspensions, backrest, damaged armrest, leather repair …
This restoration – total or partial – is done according to the rules of the art, in a traditional way, with quality materials. This high-end and prestigious service allows you to find furniture like new, which will last for many years.
The stages of a complete restoration of an armchair or sofa
When the whole Club chair or sofa is to be renovated, we start by dismantling the upholstery first. We remove the nails, the skins, the padding and even the strap if necessary.
Then we clean the entire frame and consolidate it. We check or redo the strapping of the seat and the backrest. The role of the straps is essential to ensure good support.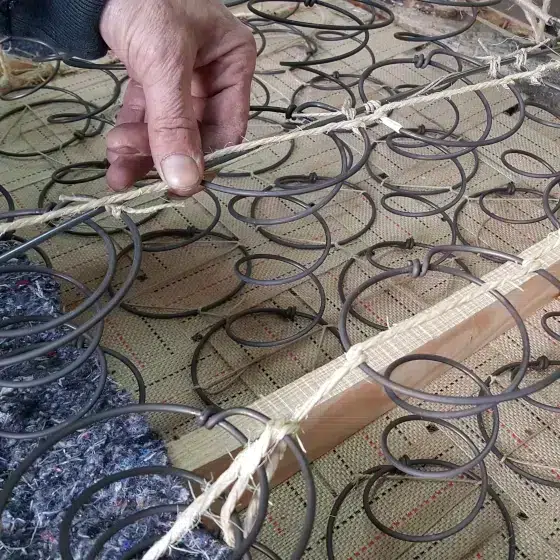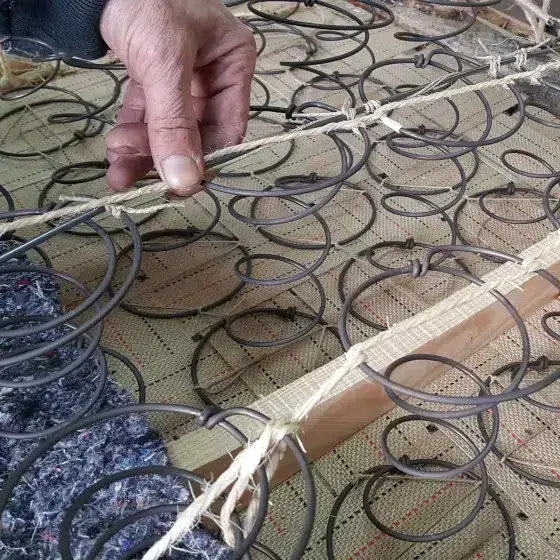 Then comes the step of the winding consisting in putting in place and fixing the springs. This restoration step must be carried out with great care, because the springs ensure the good suspension of the chair. The whole is then covered with strong canvas.
Then, we cover the armchair with vegetable hair, a natural fiber traditionally used for the upholstery of stylish furniture such as the Voltaire armchairs, shepherdess or toad. The installation of the horsehair and its fixing is a delicate job that requires the expertise of a professional.
Finally, we put your club in white, deposit a layer of protective wadding and then the full grain sheep skins (sheepskin). Between 6 and 8 skins are needed to completely renovate a club chair.
The last stage is that of the color, the patina and the waxing of the skins. Coloring is a matter of personal taste. We help you define the final look you want.
The polish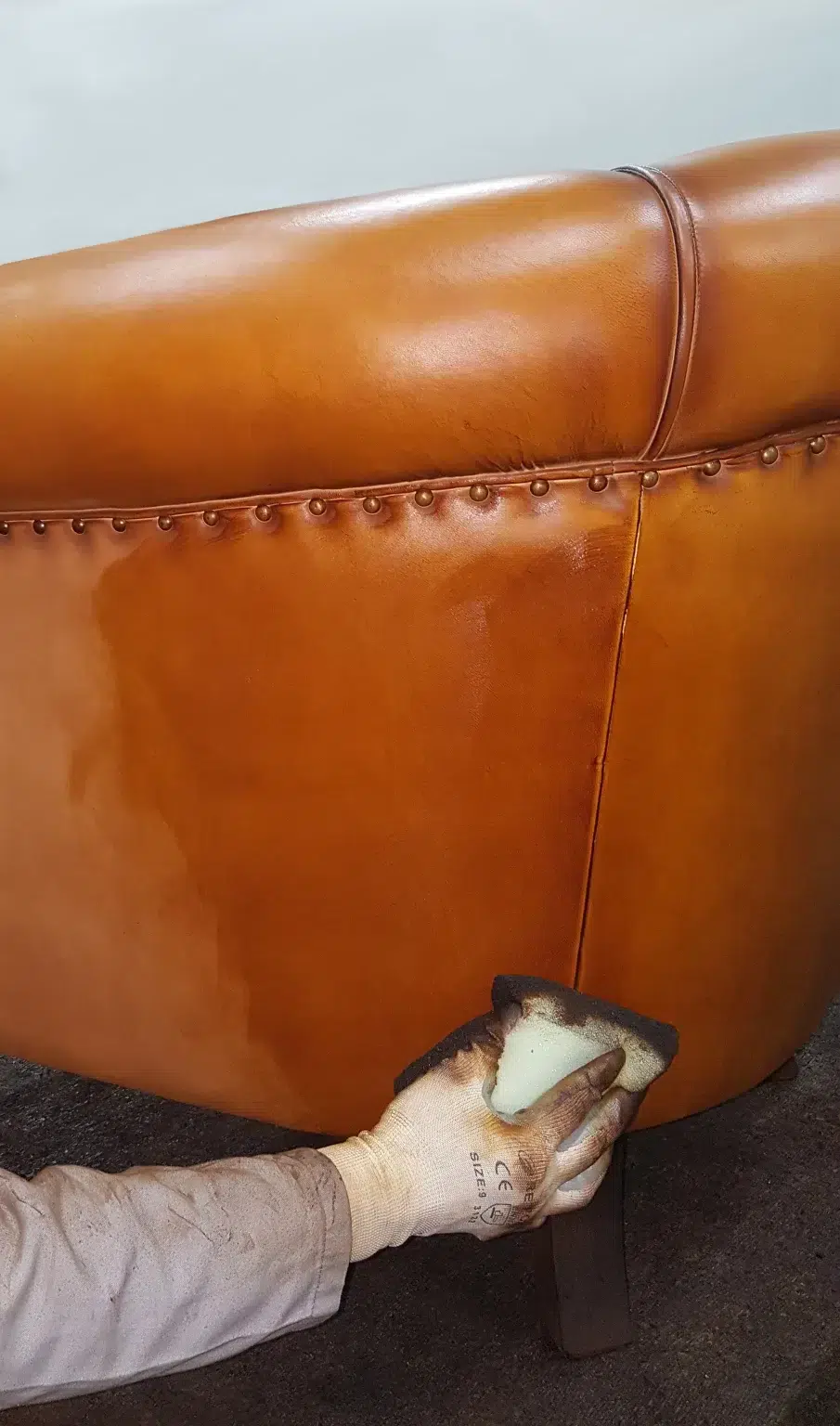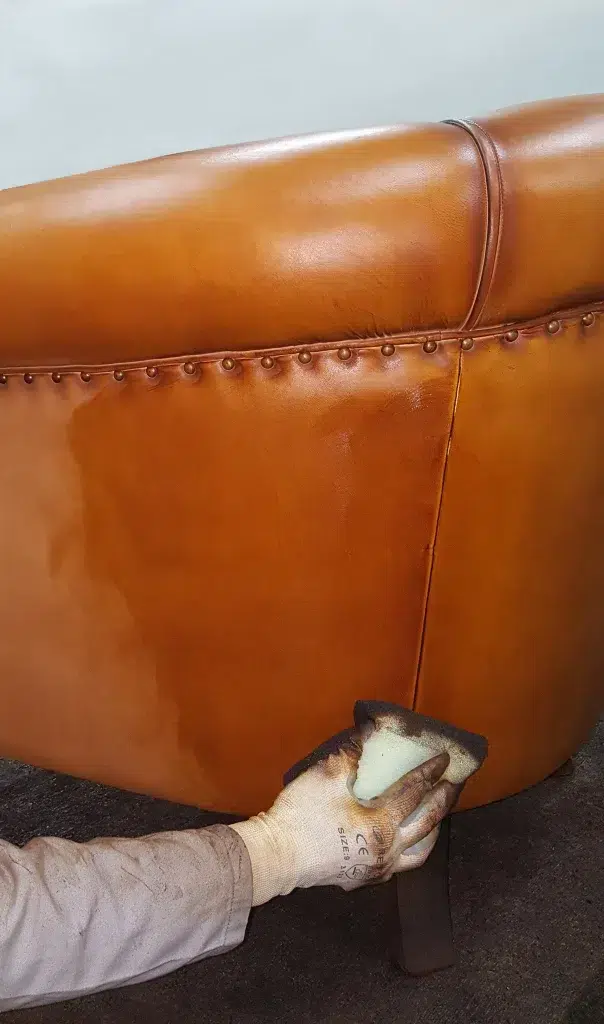 Do you want to enhance the leather of your club chair or sofa and give it more flexibility and softness? Do you want to revive its color and / or enhance its natural patina?
Entrust it to us for a complete renovation and re-waxing!
We take care of cleaning, nourishing and colorizing your product first. You can keep the same color or take advantage of our intervention to try a new color.
We also fully realize the patina, true art, which gives an authentic aspect and character to your furniture. Then we apply a protective wax.
These different stages are carried out by hand for an impeccable finish. If your club chair or sofa has traces of cat scratches, snags or other minor damage, we can fully restore the leather.
Do not hesitate to contact us for any need for additional information or for any quote. We are at your service.