Maintaining your club chair is essential if you want it to remain as beautiful and durable as it was on the first day. The basane leather that covers club chairs is a leather that requires special attention and regular care. In order for it to age well and acquire a beautiful patina, it must be cared for. Don't panic, to do so, you just need a few simple gestures that we detail in this article.
The first steps in maintaining your club chair
It all starts the moment your precious order is delivered and unpacked. Of course, you're dying to sit in your Club Chair and enjoy it. But you'll have to wait a little longer. First, get rid of the excess wax on the surface of your chair. Before a leather chair leaves our shop, we wax it and cover it with a thick layer of wax to protect it until delivery. This is an additional precaution that protects the leather from any scratches or snags during transport.
To get rid of this thin film of wax, you should proceed as follows:
Use a soft, dry cotton cloth;
Wipe the surface with small circular movements;
Insist on areas that are in direct contact with the body.
More than a chore, this first contact with your chair is actually a moment where you tame it. It is the beginning of the story you will create with it.
All the precautions to take with your leather chair
Avoid direct exposure to sunlight;
Avoid direct exposure to sunlight;
Keep away from any source of heat to prevent the leather from drying out;
Maintain a suitable hygrometry in the room at all times and avoid excessive variations;
Use the bristle brush of the vacuum cleaner to remove dust from its surface;
Air the room frequently;
Use only cleaning products to nourish and polish the sheepskin leather;
Regularly nourish it as indicated on the instructions for the basane leather wax;
Protect it from any rubbing with a protruding part (jeans rivet, metal fastener, animal claws). If such an accident occurs, you can reduce the traces by rubbing them lightly with a cotton cloth soaked in a dab of colored cream for basane leather.
Remember : Regularly nourishing the leather of your armchair will prevent it from drying out.
Essential care for your Club Chair
Regular maintenance of your leather club chair (2 to 3 times a year)
Remember: cleaning is the first operation before nourishing the leather
Dust the surfaces in direct contact (seats, armrests, backs) with a slightly damp cloth;
Apply a dab of nourishing cream on a soft cloth and spread it evenly on the surfaces to be treated (make circular movements so that the material penetrates well);
Let dry for 15 minutes;
Wipe off any excess on the surface with a cloth.
Annual maintenance of the leather club chair (1 time/year)
Once a year, it's time for a thorough cleaning!
Take a complete tour of your club chair to make sure everything is in order;
Remove the seat cushion and vacuum the upholstery;
Inspect all seams;
Check the condition of the legs;
Use a sheepskin color cream to revive the color of your chair. For the application, simply proceed as for the regular maintenance.
Finally, to apply the coloring wax properly and avoid stains, we advise you to start small. First, treat a 5 cm area on the back of the chair to practice. Proceed with circular and regular movements. If you are satisfied with the result, you can treat your entire chair.
Discover our range of waxes to maintain your Club chair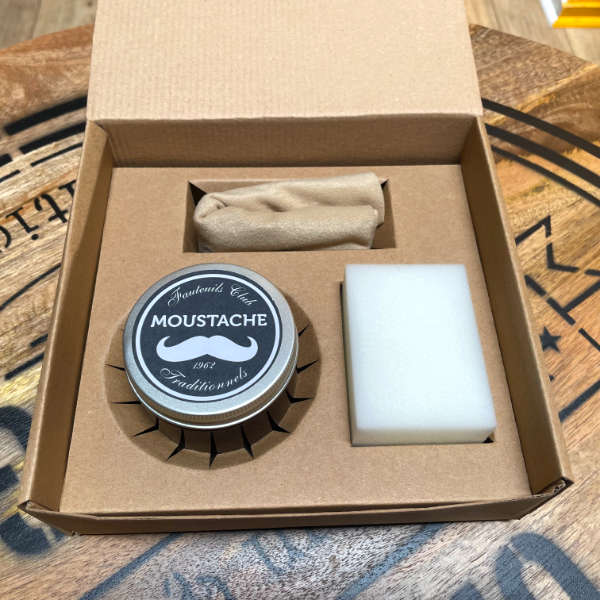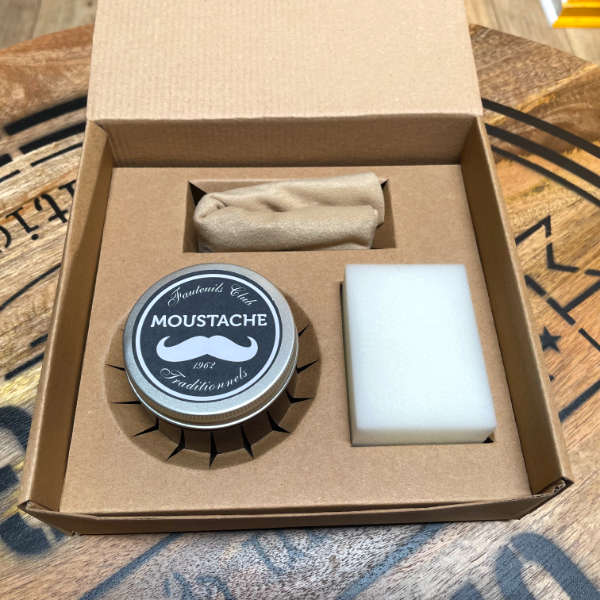 Nourishing waxes
How to use the wax
Apply the material by lightly tapping to make it penetrate;
Allow to dry for 15 minutes;
Wipe with a clean cloth.
Recommended frequency of use
1 to 2 times a month on parts in contact with the body;
2 to 3 times a year on your entire chair.
Note: If you have a problem with stains on leather, contact us.