« Traditional manufacturing of full grain leather club chairs made to measure »
Benefit from the expertise of qualified French craftsmen for top-of-the-range club chairs that can be fully customised.
A handmade, custom-made club chair or Chesterfield is a real investment that will last a lifetime. You want your furniture to be of impeccable quality, but also to reflect your personality. At Mon Fauteuil Club, we respect that. Our ambition? That your club chair, this concentrate of style and comfort, suits you perfectly. No more, no less.
Your specialist in the manufacture of custom made club chairs
We are used to responding to the special requests of our customers. In addition to the "classic" product catalogue, we are able to design 100% customised chairs. To do this, nothing could be simpler: send us a photo or a sketch of the shape of the chair you are looking for. After technical verification in our workshop, we will provide you with a quotation and a provisional production time.
If you want a specific colour of leather for the covering of your armchair, here again, everything is possible. Just let us know the colour you are looking for. On our side, we will carry out tests with our upholsterer to recreate the requested colour. We will then send you a sample of three dyed leathers, the ones that most closely reproduce your reference colour. Finally, you choose the one you like best, and then we'll start making it. Magenta, blue jean or aubergine, the only limit is your imagination! Don't worry, our company has been specialising in the manufacture of custom-made club chairs for four decades.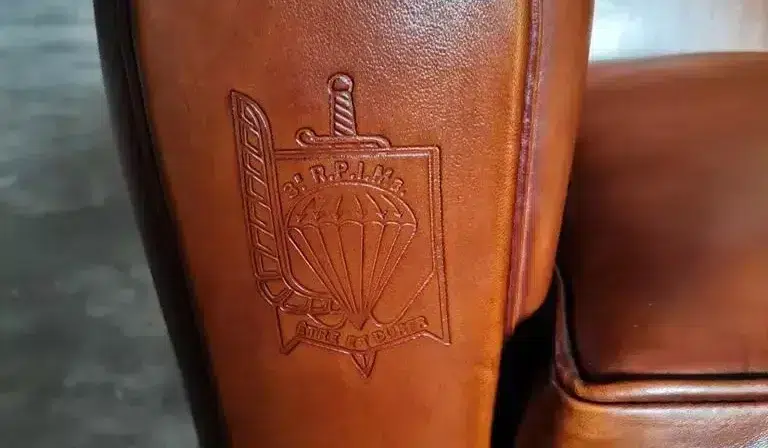 My club chair, a family business at the service of your desires
A top-of-the-range handmade and custom-made armchair like those we offer is the result of a carefully thought-out project. To bring it to life, you will be accompanied by a single contact person throughout the design of your chair. He or she will collect your wish list and liaise with our team of craftsmen to make your dream a reality.
Together, you will establish the technical framework that meets your requirements. The shape of the backrest, the thickness of the seat, the upholstery or the colour of the leather will be chosen according to your wishes, always with our best advice. From the moment you contact us to the delivery, we will be there for you. Don't let us hold you back and let us know what you want. We love challenges and seeing the enthusiasm and satisfaction in our customers' eyes.
Full grain basane leather, solid beechwood, patina, stain and polish made by hand and custom made.
My club chair : the jewel of French craftsmanship at the service of your decorating inspirations
Synonymous with nobility, the club chair is a concentrate of quality raw materials and artisanal processes. But it is also the richness of a history, marked by the seal of prestige, elegance and epicureanism. The club chair is more than just a seat, it is the symbol of an art of living that makes no compromise on quality or comfort.
We work with several different craftsmen who are involved at different stages of the design process. Each craftsman contributes his genius and technical skills. Thus, tanners, upholsterers, carpenters and joiners combine their talents with mallets, crowbars and scissors to create the top-of-the-range armchair that you expect.
Our catalogue is modest and focuses on our core business, on what we do best; armchairs, large and small, sofas, 2 and 3 seater, but also convertible sofas, footrests and armchairs. What we do, we do well. And it's not us, but our customers who say so.
Our chairs and sofas are available in 8 colours. Receive free leather samples to help you make your choice.
We would like to invite you to our showroom to help you choose your Club chair.
The club chair : an iconic model that will last over time
Le fauteuil Club ou Chesterfield est un produit noble et durable qui se transmet de génération en génération.
The club or Chesterfield armchair is a noble and durable product that has been passed down from generation to generation. It is a classic that will never go out of fashion. On the contrary, the particularity of its leather and its patina is that it becomes more beautiful with time. As you can see, unlike trendy and modern armchairs that will soon become outdated, the authentic club chair will pass through the ages with the grace and elegance that characterises it. It is a timeless piece of furniture and as such, it will blend in perfectly with vintage, industrial, retro, bohemian, chic, Scandinavian, country, traditional or rustic decor. You didn't know about all these decorating associations, did you? Yes, the club chair has character, but it is also a very adaptable model.
Club chairs and chesterfields, an ethical and ecological choice
Our range of chairs is an excellent choice for those who want to minimise their environmental impact. Why?
Use of an environment-friendly leather
Firstly, the basane skins we select come from a production network that is voluntarily subjected to rigorous controls to combat animal abuse. Secondly, we entrust these skins to one of the last tanneries in France, which perpetuates a unique know-how recognised throughout the world : vegetable tanning. Unlike the mineral tanning of industries that damage the skins and the environment, vegetable tanning respects and enhances the natural beauty of the leather, without producing polluting waste.
Use of a wood made to last over time
For the structure and legs of our chairs, we use beech wood. It is a dense and resistant tree species that does not crack.
The club chairs and Chesterfield are therefore made to last and it is no longer a question of consuming our precious resources at will, but rather of having a reasoned approach where quality and longevity go hand in hand.
Our customers talk about us !