Combine beauty and functionality with a convertible club sofa!
Have a good seat for the day and a comfortable bed for the night at any time. This is the answer provided by the convertible club sofa.
Ideal for small spaces, this seat offers you the possibility to keep your loved ones sleeping while remaining a decorative element with an essential style.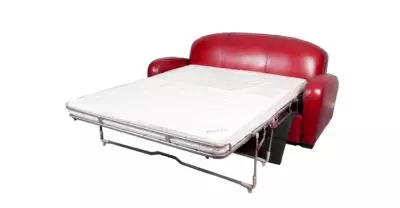 How to choose a sofa bed?
To try and answer this question, ask yourself the right questions: what design do you want? What dimensions do you want?
How often will you sleep on the sofa ? What is the destination room ?
In the "Choosing your Club chair" section, I mentioned that we often let ourselves be guided in our choices by aesthetic criteria that are unavoidable: our interior design, the covering and the colour.
Indeed, you will not choose the same sofa bed for occasional use or for daily use.
When buying, you must pay attention to the quality of the mattress. At MyClubChair, all our club sofa beds have Bultex mattresses.
The bedding
The more the bed is used, the more the mattress must be of good quality and durable.
You will often find mattresses on the market that are labelled "polyurethane foam". But this is not enough and is not always a guarantee of quality. Indeed, these mattresses have a very relative comfort and a limited lifespan.
By relying on a brand such as Bultex we have chosen peace of mind, for our customers and for ourselves.
The mechanism of the bed is also important, it must be solid and easy to open, but not too much. Make sure it is of good quality and easy to open.
It is normal to force the bed open a little, but an adult should be able to open it easily.
Also consider how much space the sofa bed takes up when opened.
Discover the Club sofabed by My Club Chair
For our convertible sofas we have chosen a 3-ply mechanism.
For comfort, a Bultex mattress of 8 cm or 13 cm (only on the Hemingway and Grand Carré models) and 40kg/m3 density guarantees sleep.
The wooden slatted base is based on a quality mechanism that is easy to open and close.